BREAKING: Newsreader and journalist Michael Buerk fronts new TV advert for credit experts TotallyMoney
Jan 14th 2019
For Immediate Release: Newsreader and journalist Michael Buerk is the star of TotallyMoney's brand-new TV advert, marking the third in a series that promotes the company's Free Credit Report. The advert shows Buerk covering breaking news about how TotallyMoney has helped over one million customers since launching its Free Credit Report in late 2017. He is then magically transported into the dining room of TotallyMoney customers Dan and Julie. The advert builds upon the success of TotallyMoney's previous two TV campaigns, where Clive Tyldesley — voice of ITV football — ends up in Dan and Julie's bed, and TV presenter Anthea Turner ends up in their kitchen. TotallyMoney Chief Marketing Officer, Nathan Levi, said: "Following our success with Clive and Anthea, Michael seemed the perfect person to complete a trinity of ads that touch on the main pillars of terrestrial TV: sport, lifestyle, and now news. "And since understanding and improving your credit isn't something that happens overnight, it seemed appropriate to extend the journey of Dan and Julie further to show how far they've come since joining TotallyMoney." As the ad progresses, Buerk learns how Dan and Julie now have a much better handle on their money and are thinking of owning a home, thanks to TotallyMoney's help with improving their credit score to get better credit offers. The advert closes with Buerk inviting viewers to learn how to improve their credit score with TotallyMoney. Viewers can keep an eye out for the three 10-second and four 30-second versions, each with slightly different and amusing endings, due to air on Tuesday the 15th of January.
| | |
| --- | --- |
| Client company | TotallyMoney |
| Chief Marketing Officer | Nathan Levi |
| Head of Display | Ben Reeves |
| Head of Brand & Marketing Communications | Mark Moloney |
| Creative Agency | The Kitchen |
| Director | Michael O'Kelly |
| Producers | Pete Roe & Lisa Dawson |
| Director of Photography | Marcus Domleo |
| Media Planning and Buying Agency | All Response Media |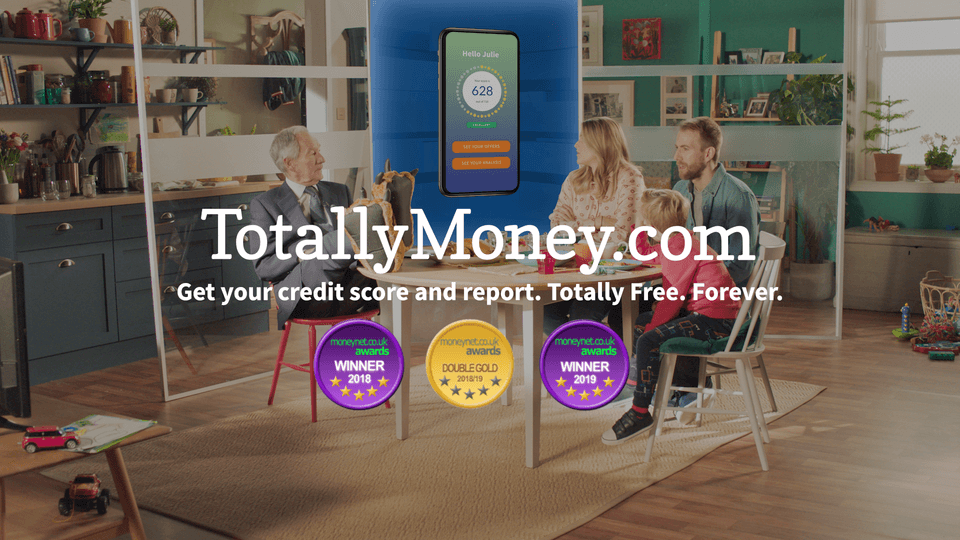 For more information, please contact the press team
About TotallyMoney
With a focus on the one in three UK adults financially under-served by the financial services industry, TotallyMoney is the credit app on a mission to help everyone move their finances forward.
TotallyMoney believes people's financial data should work for them, and not against them and with more than four million customers, they provide the UK's only free, live credit score and report.
Its service helps customers understand their financial position and provides personalised recommendations so they can start creating financial momentum. TotallyMoney also works closely with leading lenders, to ensure eligible customers are matched with the right products, underpinned by its robust data, product and tech capabilities.
TotallyMoney is regulated by the Financial Conduct Authority (FCA).