£10,000 of prizes up for grabs in Thumb-Stopping Moments short film competition
Oct 13th 2016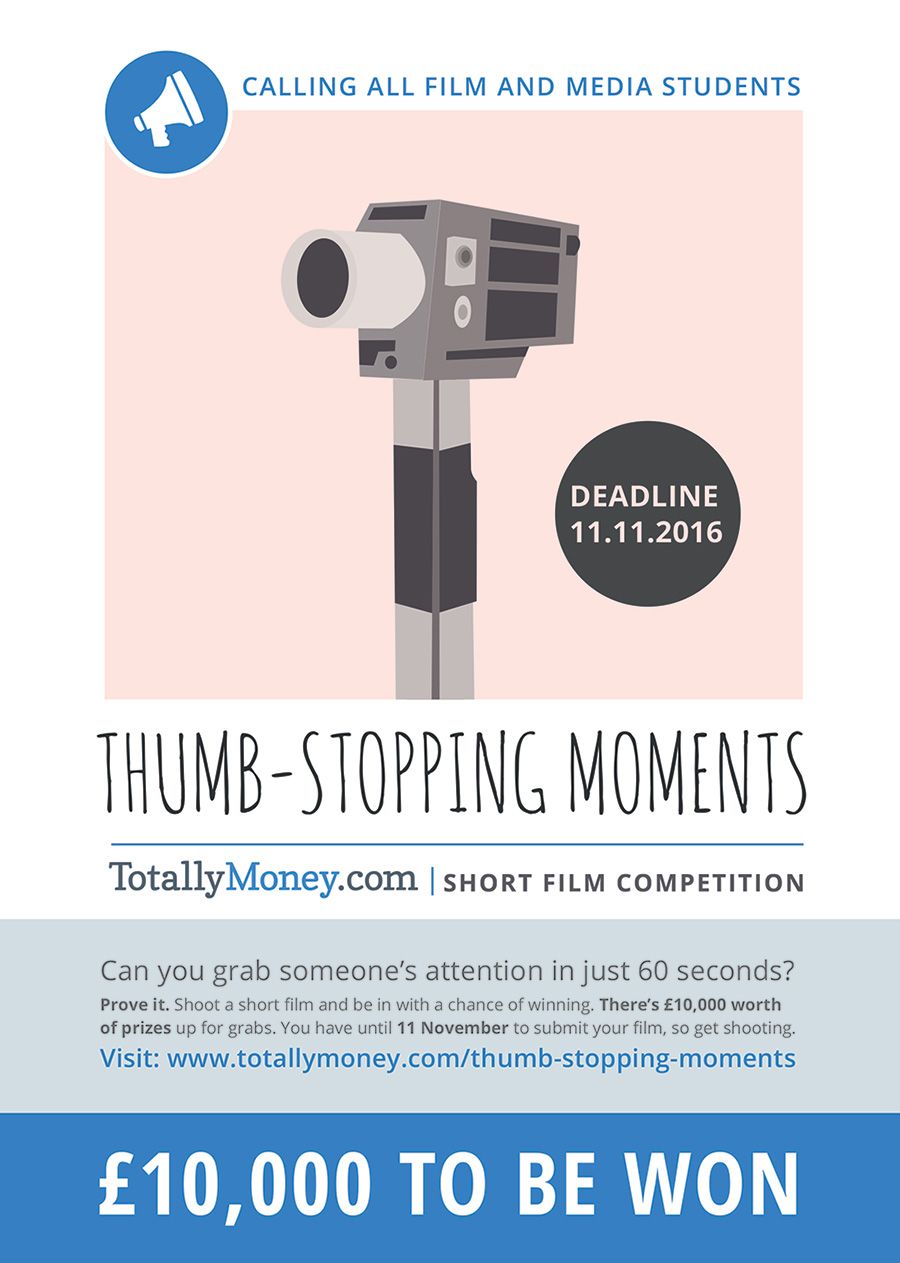 (https://www.totallymoney.com/thumb-stopping-moments/) TotallyMoney.com is offering £10,000 of prizes to filmmakers who can stop someone scrolling through their social media newsfeed with just 60 seconds of film. The credit comparison site will award £7,000 for the best film submitted. The second and third runners-up will get £2,000 and £1,000, respectively. Films can be no longer than 60 seconds and must be titled 'Avoiding the Unexpected'. Other than this there are no rules – films will be judged on content and impact. For full details of the competition, including information on how to enter, visit the Thumb-Stopping Moments Short Film Competition page.
Filmmakers of all levels, even if they only have a smartphone, are all invited to enter the competition. Entrants have until 11 November 2016 to submit their films. Shortlisted films will be viewed by a panel of judges from the world of film and social media who will provide critical feedback on each and choose the winner and runners-up. Shortlisted films will also appear on our social media platforms and could even be used in one of our Facebook adverts where they will be seen by up to 50,000 people daily. TotallyMoney.com Head of Brand and Communications Joe Gardiner says: "This is a great opportunity for any budding filmmakers to get huge exposure for their work and even win some money. "In the age of social media it is becoming harder and harder to catch the user's eye as they scroll through their Facebook or Instagram feeds. "To grab someone's attention with a 60-second film is quite a challenge, so we're really excited about seeing what people come up with."
For more information, please contact the press team
About TotallyMoney
With a focus on the one in three UK adults financially under-served by the financial services industry, TotallyMoney is the credit app on a mission to help everyone move their finances forward.
TotallyMoney believes people's financial data should work for them, and not against them and with more than four million customers, they provide the UK's only free, live credit score and report.
Its service helps customers understand their financial position and provides personalised recommendations so they can start creating financial momentum. TotallyMoney also works closely with leading lenders, to ensure eligible customers are matched with the right products, underpinned by its robust data, product and tech capabilities.
TotallyMoney is regulated by the Financial Conduct Authority (FCA).