Creating a personalised offers page for customers
By Antonio Tella
Jan 31st 2018
In 2017, TotallyMoney created Borrowing Power to help customers understand how likely they are to get credit. Last week, with the launch of the new 'Your Offers' page, we've developed that idea into an optimised, personalised experience for all TotallyMoney account customers. Now  they can take full advantage of their Borrowing Power. We've seen how different customers, with different profiles, interact differently with our product. Some are interested in searching different types of shorter-term borrowing and want rapid access to credit at the best price. Other customers show more interest in longer-term planning to achieve larger financial goals. Previously, everyone would get the same experience, but with the creation of the new 'Your Offers' page, we're able to segment customers based on their Borrowing Power. Each customer is matched to a tailored journey to help them to find the most appropriate cards, loans and mortgage products. This ensures that they get a bespoke experience when looking for credit with TotallyMoney. We've introduced three new features for customers on the new 'Your Offers' page.
1. Latest Offers Alerts
The main feature of the new 'Your Offers' page is the integration of our award-winning alerts service within the account service. Each time the customer logs in, we scan the market and notify them of the latest and best credit offers that they are eligible for. This can include letting customers know that they are eligible for a new card (which is extremely useful for our lower Borrowing Power customers who might otherwise struggle to be accepted for credit) to identifying the longest balance transfer offer they're eligible for (in order to help users reduce the interest they are paying on existing cards). Of course, customers can still view all of the products that they are eligible for, but the alerts allow us to superimpose a layer of intelligence and context to help our customers find the best product for them and their current situation.
2. Helping to improve users Borrowing Power
By considering each customer's individual Borrowing Power, it was easy to see that no two are the same, and that a single, universal experience is not appropriate. A proportion of our customers have a very low Borrowing Power and we wanted to use the new 'Your Offers' page to help users by surfacing products that are more likely to accept them and help them improve their credit score. This is important to help users avoid falling into a vicious cycle of credit application rejections. By identifying these customers we are able to prominently feature those products and services that are designed for users in this situation while still enabling them to access credit.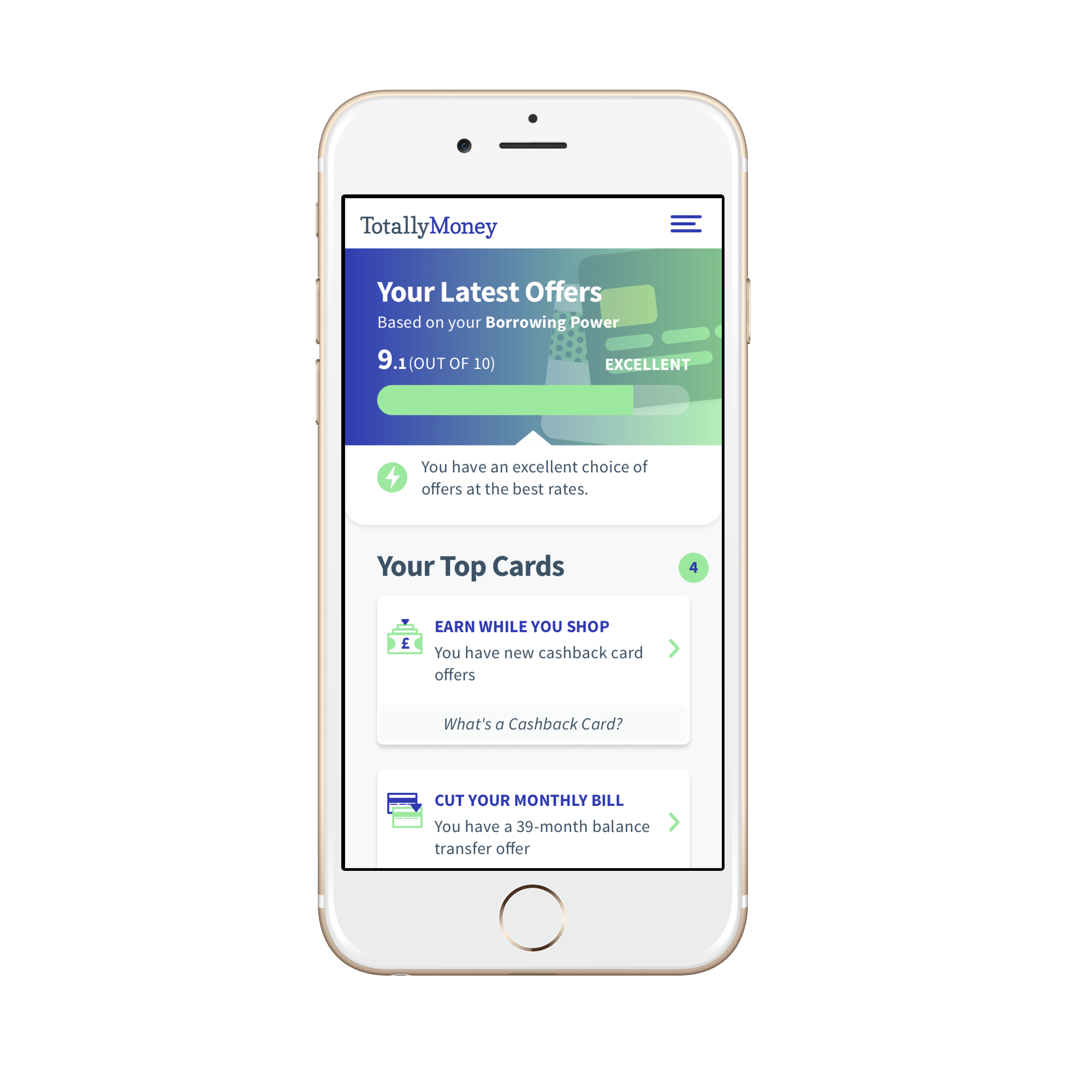 3. Contextual Messaging
We understand that the credit market can be confusing for customers and that with a wide variety of products available, all with differing features and costs, it can be difficult to choose the right product. To combat this we've included a plain English explanation of each alert and offer that we show customers. So, not only will we tell them that they are eligible for a new card, or have a longer 0% purchase offer available to them, but we explain the context of this alert and how it can help them. All of this is based on the individual customer's Borrowing Power and tailored to their personal situation. Creating the 'Your Offers' page is just the starting point for greater personalisation of the TotallyMoney account service. The page provides a clear, easy-to-use product journey for returning customers to find all of the latest product and offers information. We continue to add features to further refine and personalise this section so that customers will discover new products that are the most appropriate and relevant to their current situation. We're building a service where customers can find the latest offers at any time, safe in the knowledge that TotallyMoney has done the hard work in identifying and matching the products to provide the most relevant selection for them to choose from.