"Running is 80% mental"
By Ben Reeves
Apr 30th 2018
As a keen runner, I decided a good way to raise some money and awareness for charity would be to run a marathon. But as a keen runner, I also thought: everyone does that. I'll do something different. So, I'm going to complete a 200-mile run from Chester to Southampton from Thursday 28th April to raise over £5,000 for Bowel Cancer UK. It's the second biggest cancer killer to affect many across the UK and beyond. I want to raise awareness of the illness and to help the 268,000+ people living with bowel cancer in the UK.
"Running is 80% mental" - Joan Benoit Samuelson
This endeavour was prompted by the news that my father was diagnosed with stage four bowel cancer in the summer of 2017. Bowel cancer can be treated much more easily if it's diagnosed early. Hopefully, this will prompt people to see their doctor if something doesn't seem right. My 322-kilometre route starts in Chester, where my father was born. Along the way, I'll run through Whitchurch, Telford, Kidderminster, Worcester, Cheltenham, Cricklade, Marlborough, and Andover, before finishing in my hometown of Southampton.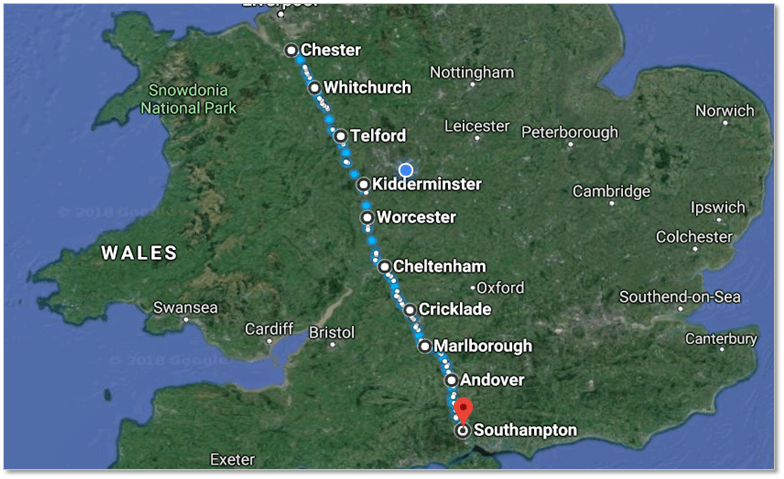 I will run through over 30 towns and cities, crossing seven counties to reach my destination. It will take more than a quarter of a million steps to complete the journey. To keep me company and sane on the trip, I invite anyone to run alongside me, be it those from running clubs, other keen athletes, or locals wishing to show their support. I should burn over 5,500 calories a day to complete the venture, averaging 20 miles a day for 10 days. Many have already shown their support for my undertaking on my JustGiving page. TotallyMoney has been incredible in the support and encouragement offered, and have donated £500.
"I run because long after my footprints fade away, maybe I will have inspired a few to reject the easy path, hit the trails, put one foot in front of the other, and come to the same conclusion I did: I run because it always takes me where I want to go." - Dean Karnazes