It can be hard to keep track of all the payments leaving your account each month. But staying on top of regular bills is one of the best ways to help your credit score climb higher.
Here's a quick look at why missed payments have such a big impact on your score, and how you can avoid missing any in future.
You're not alone — the UK has a missed payments problem
In 2022, 3.2 million adults said they missed a payment over the last two years. That's 6% of the entire population! 
It gets worse for younger people. More than 10% of 18—34 year olds said they'd missed a bill recently, with 6% saying they'd missed multiple.
The payments people are missing the most? Credit cards, rent and loans. And no matter where you are on your financial journey, that can lead to some serious setbacks.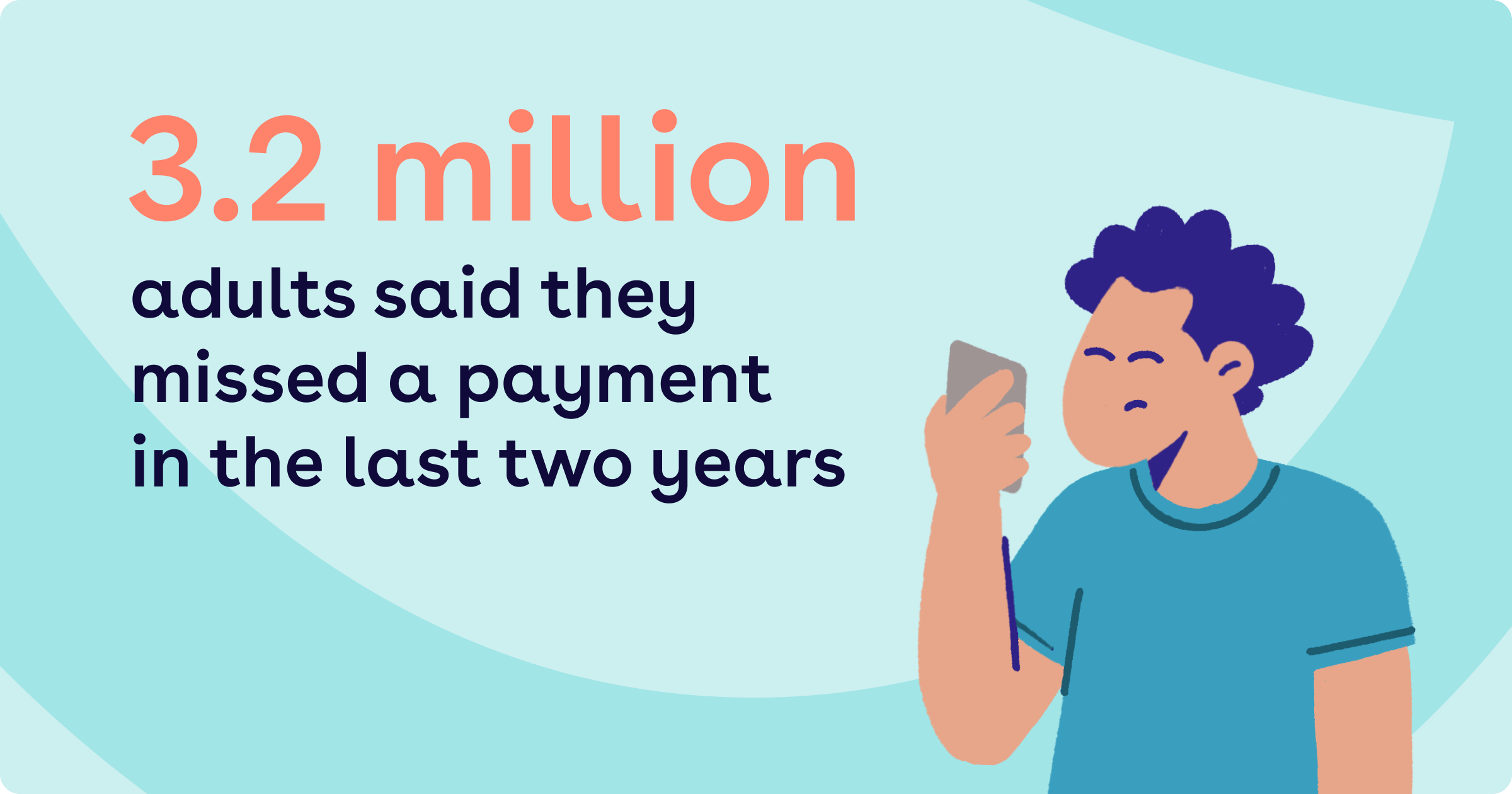 Missed payments can have a massive impact on your credit score
A late payment could reduce your credit score by 80 points and stays on your account for six years. That means lenders can see you've missed payments in the past whenever you apply for credit. Obviously, that makes them much less likely to say yes.
It doesn't matter how big or small the payment is. If you've missed your mobile phone contract — it still counts.
The important thing is to take action quickly. The longer the bill goes unpaid, the worse the impact. Try your best to avoid defaulting on the account: that could set your score back by 350 points, which could take a lot longer to repair.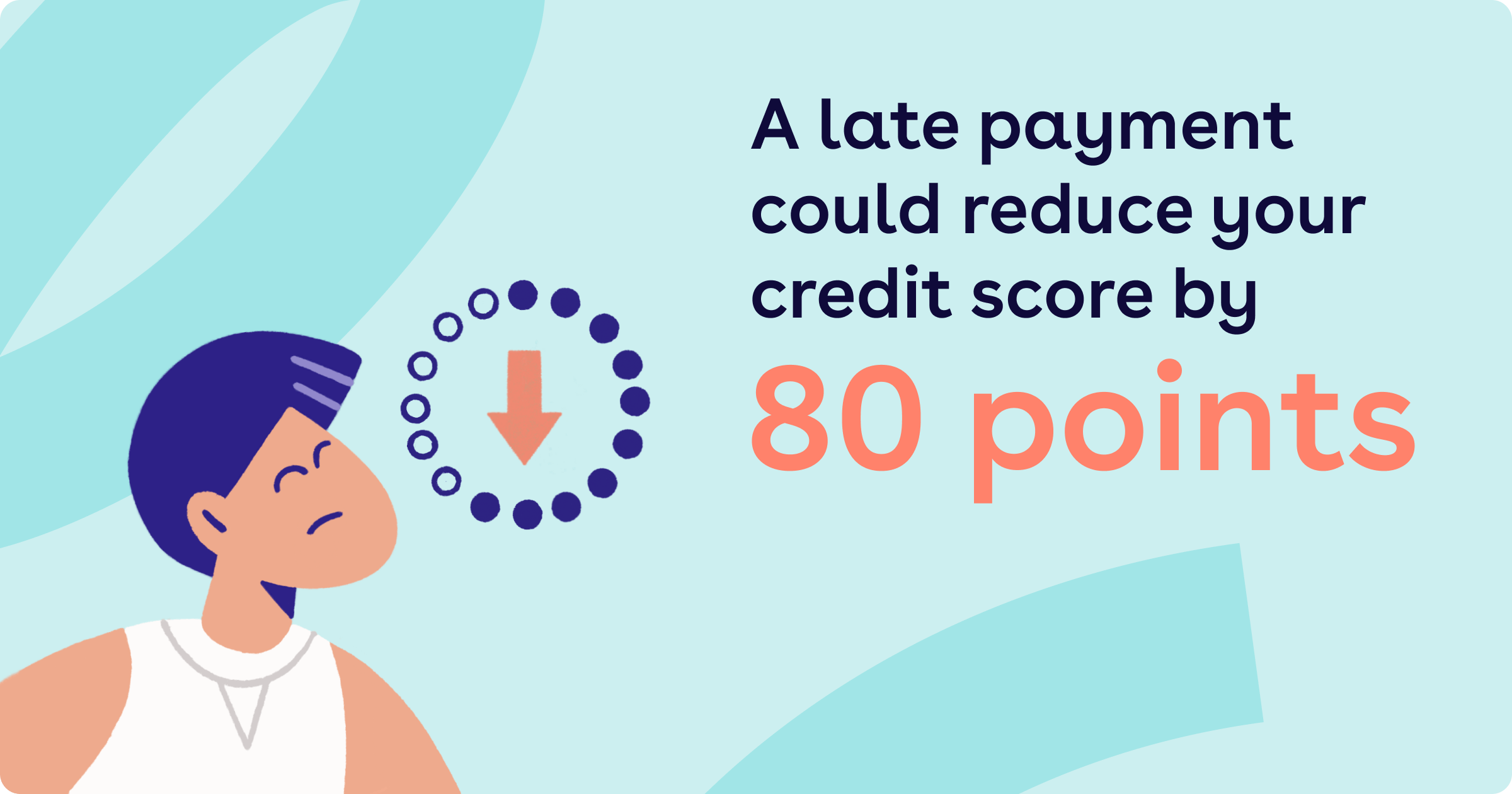 And a low credit score could be costing you hundreds of pounds
According to our own research with Moneycomms.co.uk, a poor credit score could cost you as much as £693 a year. That's because people with lower credit scores tend to see offers with higher interest rates and shorter introductory offers.
If you had a credit card balance of £2,472 and a low credit score, you could be paying £58 a month MORE than someone with a higher score.
So the takeaway is simple: it pays to protect your score.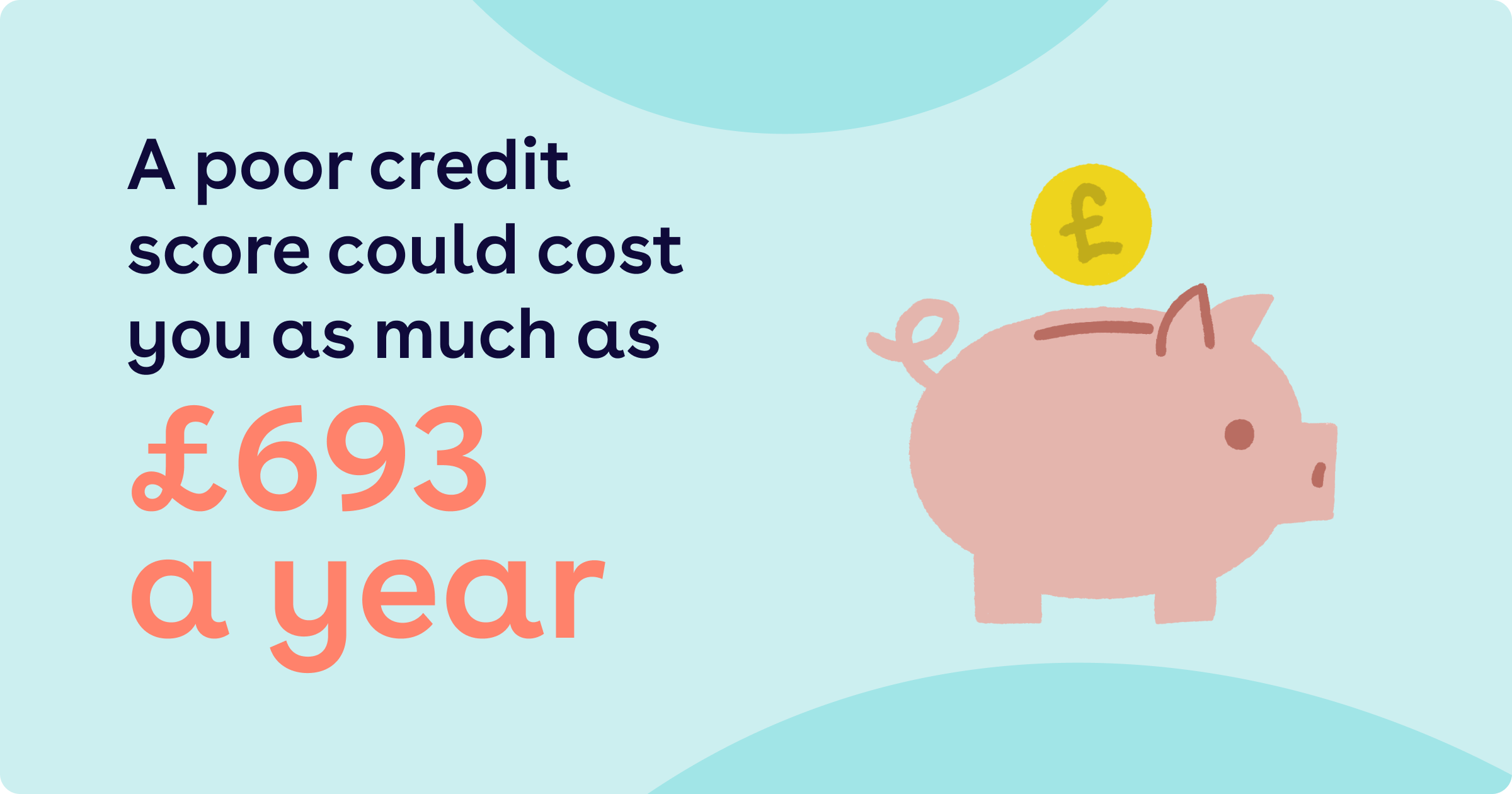 Here's how you can protect your credit score from missed payments
Look at your urgent bills
1. Look at your urgent bills
Not all bills have an impact on your credit score. Missing some bills will cost you points, while others won't. The problem is: it's not always easy to tell the difference.
Luckily, the free TotallyMoney app makes it easy.
Thanks to the power of open banking, you'll be able to see exactly which of your regular bills are impacting your credit score. Just securely connect your bank account and the app will flag any bills that are being reported to credit agencies. Keep on top of these bills to avoid a drop in your score.
2. Reduce your monthly outgoings
There are a few quick tricks you can try to reduce what you're paying each month…
Firstly — if you're paying interest on a credit card, consider a balance transfer offer. That's a credit card deal that lets you transfer an existing balance to a new card and gives you a number of months to pay it off, interest-free. So an instant drop in how much is leaving your account. Use the savings to clear the balance faster, or to pay more urgent bills. 
You could also look to consolidate your debts with a loan. Looking after one monthly payment can be a lot simpler than managing half a dozen, meaning you're less likely to miss a payment — plus you could find a lower interest rate, meaning you'd be paying less overall.
You might also want to take an evening to review all your outgoings. Use the free TotallyMoney app to check your regular bill breakdown. It'll cut out your everyday spending, so you can focus on the things leaving your account every month. You may discover subscriptions you're not using anymore, or things you can live without.
3. Make it easier to pay on time
One of the best ways to make sure you always pay on time is to set up direct debits for all the bills that can impact your credit score. That way, you don't have to remember to make each payment.
It could be worth getting in touch with your account providers to see if you can reschedule the day you pay your bills. If you set up all your bills to leave your account on the same day you get paid, you're more likely to have enough money to cover them.
It's also a good idea to know how much you can afford to spend on things like food and clothing without dipping into your bills budget.
The free TotallyMoney app shows you exactly that. Securely connect your bank account to see your balance-after-bills — that's the amount you'll have left after you've paid your bills. It's an easy way to check how much you can spend without putting your credit score in danger.
4. Set up alerts so you don't get caught out
Life happens. Even the best of us can forget to pay a bill on time. That's why it's a good idea to set up alerts and notifications.
That could be as simple as a calendar reminder to check you've got enough cash to pay your rent on time.
Or you could use the free TotallyMoney app to set up alerts based on your balance-after-bills. You'll get an alert as soon as your balance goes below a pre-set amount, so you can better manage your spending. Plus, we'll let you know if there's an upcoming bill you're likely to miss. That way you can take steps to protect your score before any damage is done.
Staying on top of your bills is a great way to show lenders you're a safe bet and help your score climb higher.
That's why it's a good idea to take some steps to avoid missing any payments in future.
If you've tried the tips above and you're still struggling to pay on time — don't worry, there's help available. First, get in touch with any lenders you owe money to. They may be able to adjust your plan to make repayments more manageable.
If that doesn't help, click here for organisations that can provide you with free advice and assistance. Remember: you won't ever be penalised for asking for help.
And remember: the free TotallyMoney app gives you a powerful set of tools to simplify managing your finances and get you moving in the right direction quickly.