Imagine that your home is on fire. The people you love are safe, as are your pets. You can rescue just one item from the blaze. What do you save?
This is the question we asked 50 photographers in over 20 countries.
Using a variety of freelance sites including Fiverr, PeoplePerHour and oDesk, we issued a simple brief: take a photo of whatever you value the most and explain why it means so much to you.
In a world obsessed with fashion, consumer goods and technology we wanted to find out more about the things we really value. Of all of the things we accumulate over the years, which are most precious? Which are truly irreplaceable?
The good news? There wasn't a smartphone or gadget in sight.
To showcase the photos and the stories behind them, we've created an online gallery: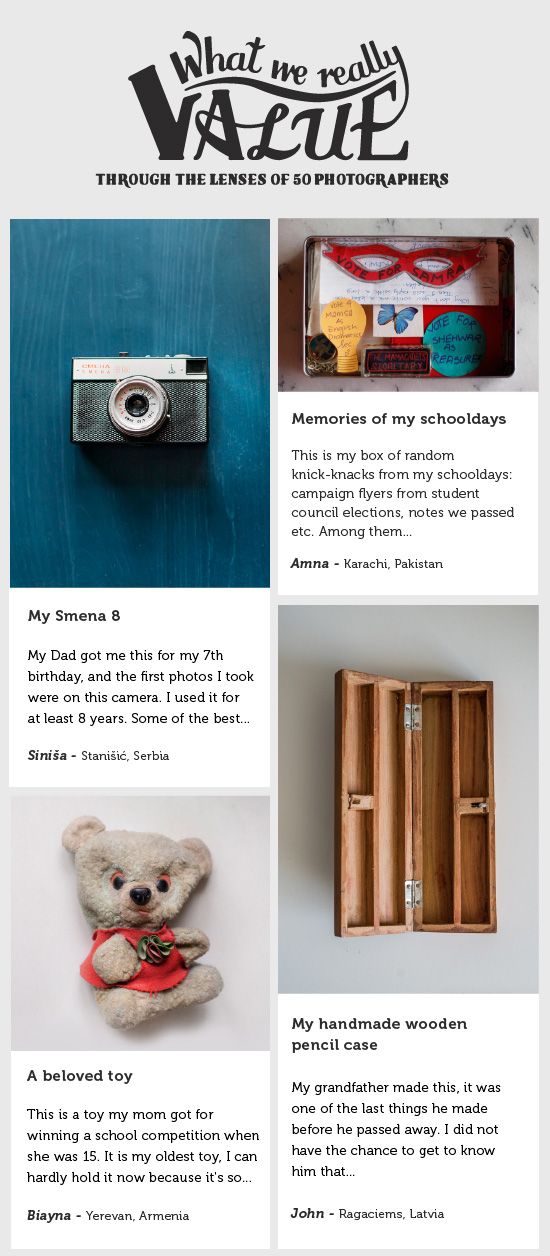 Click image to view the full collection.
The objects photographed vary hugely – from beloved childhood toys, to tape measures and jewellery. Many said these objects represented links to loved ones who are no longer with us, whilst others said their objects were valuable because of what they symbolise – happiness, confidence and even freedom.
Perhaps most interestingly, whilst we saw variety in terms of the objects themselves, it appears that our reasons for placing value on them are universal. We asked Nathalie Nahai, Web Psychologist and bestselling author for her thoughts on the collections of photographs: "What's fascinating about the things people have photographed are the emotional narratives they carry.
Whether a beloved childhood toy, a treasured polaroid or a well-worn pair of hand-knitted mittens, each item tells a story of love, of loss, or of nostalgia. Many symbolise lost childhoods, shared experiences or memories of grandparents. Together, they provide a physical connection with those people or times no longer with us.
The things we value most represent our passions and desires, what's meaningful to us, and the moments we are unwilling to forget. They weave a rich tapestry of our lives and reveal hidden worlds of relationships and love."
What we really value, through the lenses of 50 photographers