Moving on up (the road)
By Sam Johnson
Aug 12th 2019
The past 12 months have been full of with big wins, award success, and countless company records — reaching two million customers, securing investment, and taking home Best Free Credit Report Provider at the Moneynet awards.
So, we had to find a party space big enough to keep up with it all. And, to be honest, we were getting a bit cosy in the old place.
TotallyMoney has just moved in to a bigger and better new office. It's only five minutes away from our old place, so still nice and close to our football pitch — we like our home comforts.
The office itself is almost double the size of our previous one, representing our growth as a company and a brand. We've enough space to keep us in line with our growth plan.
So, yes, we're still at Old Street roundabout. Here we benefit from being close to the financial giants of the City, and the forward-thinking tech hubs of Shoreditch.
A collective vision
The move was spearheaded by our HR Manager, official rising star and all-round dynamo, Felicity Winkley.
She made sure every member of staff, from entry level to C-suite, got their say on the move.
Felicity says: "Moving in to a brand-new development meant we had a blank canvass to play with, and Thirdway did an amazing job to help us realise the potential of the project.
"The result is a grown-up office, but with a playful side — a library and a DJ booth; a bar and plenty of plants; spaces for quiet, solo working and spaces for collaboration.
"It feels very 'us', but at the same time, it's an upgraded us — one that we can grow into over the next five years."
All this effort on her part has created an office that works for everyone.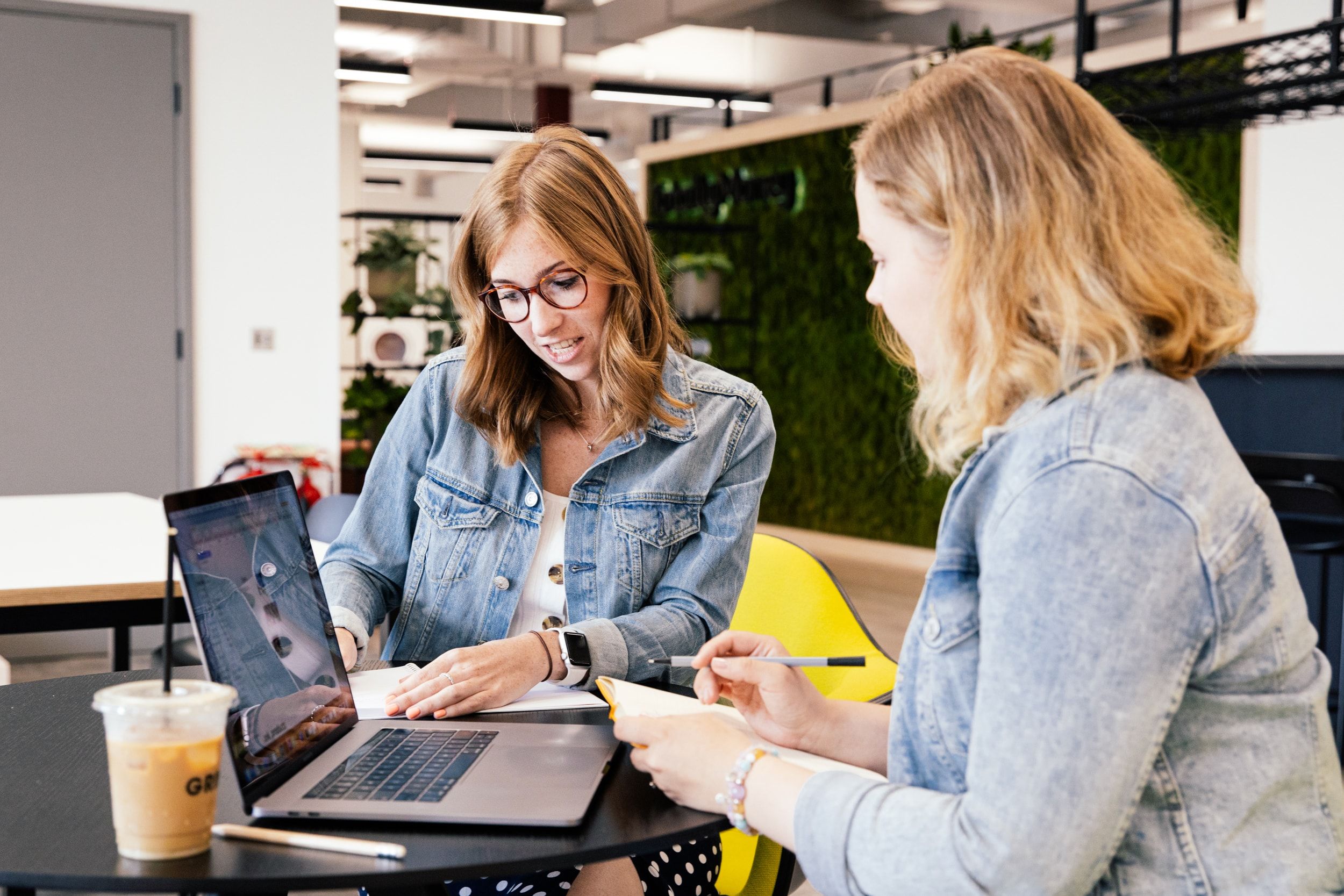 Made-to-measure
The office design was coordinated by Thirdway, who talks more about the creative process behind the office fit-out:
"The building's architecture was unique in the sense it allowed lead designer, Tom Iles, to explore aspects vertically as well as horizontally. With ceiling heights of up to 4m, we put in a unique mezzanine space, with three quiet soft booths underneath, to not only act as a hideaway, library space and signage wall – but also a memorable and unique totem for the office.
"Within the meeting spaces, we looked to mix up the furniture to encourage different uses. As well as traditional meeting rooms, we used soft seating, small quiet rooms and booths to create spaces individuals and small groups can use to work away from desks."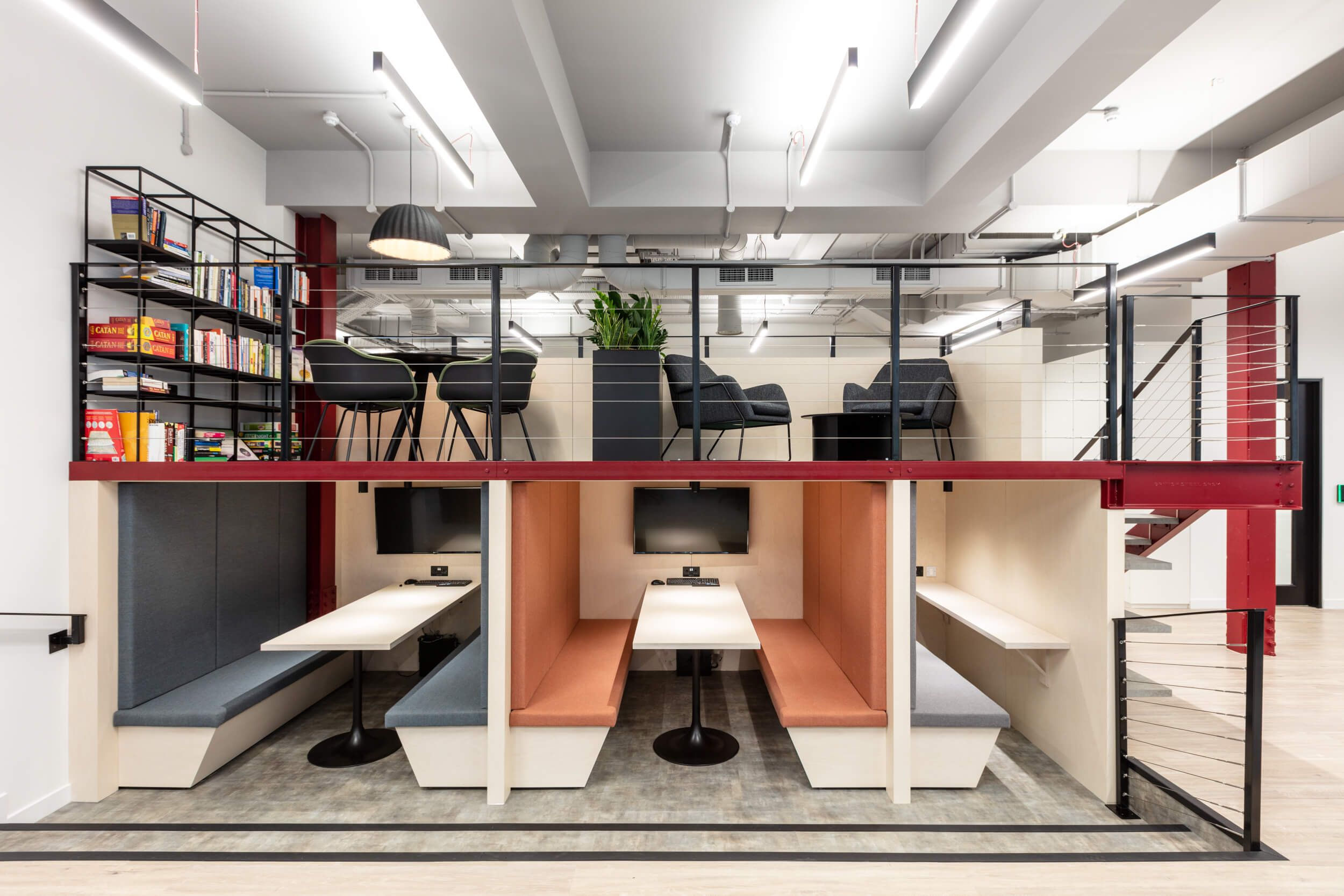 A new chapter
But, it's not just about moving location. Our CEO, Alastair Douglas, shares some thoughts on the significance of the move for the company:
"It's not just a new office, it's the next step for TotallyMoney.
"The space is conducive to all the hard work that goes on day-to-day, as well as the cultural aspects of TotallyMoney that are central to who we are.
"We're still close to the football pitches and sports centre for our lunchtime clubs. There's room for yoga, board game nights, and industry meet-ups. Preserving these key parts of our company culture was key.
"And, what's great is that we got the whole company involved in the process."
High tech, fresh spec
Alongside a sparkling water tap, a mezzanine library, and a branded moss wall — yes, really — we also seized the opportunity to up the tech spec.
We have a new speaker system to make our Friday afternoons a bit more of a party, a room booking system that keeps everyone punctual, and a suite of screen-sharing hubs to better facilitate remote working.
Head of IT Operations, Christian Dachwitz, tells us more:
"The focus was making it all as simple as possible. We aimed to have no wired connections whatsoever.
"The meeting rooms are fitted with Mersice Solstice Pods, to let staff wirelessly share multiple laptops screens — at the same time. This fits our collaborative style of work, and aids remote working.
"We also upgraded the Wi-Fi. The office is fitted with a high-tech meshed network, so everyone is free to roam and work wherever they like.
"The kitchen is fitted out to host meet-ups and whole-company presentations, and of course with a PS4 and RetroPie to get some gaming in on a Friday afternoon."
It took time for some us to work out how to use all these high-tech gadgets. But, now we're well acquainted, we couldn't cope without them.
With so much going on, it was great to sink right in to a fully functioning office on our first Monday. Now, to figure out how to work the air con…