I volunteered in a charity shop and now I need a clothes steamer
By Martin Clarke
Sep 19th 2018
Admit it. Even in our rush to catch a bus or a train before or after work, we all see the hastily handwritten signs that decorate shop windows: VOLUNTEERS NEEDED. We think how nice it would be if only we had the time, if only our weekends weren't taken up by family, friends, or recovering from a heavy Friday night. Even if we could free up our weekends, we think: do they truly need us then? When charity shops are likely to have the most hands on deck? These thoughts, for many, nag at us like an unpaid bill. But what if — what if — you had the chance to help others on a weekday, when help is needed most? And what if that didn't involve taking holiday or unpaid leave? It's one of the perks of working at TotallyMoney: two days off each year for charity work, arranged through corporate volunteering program Benefacto. Since TotallyMoney currently employs close to 60 people, that's 120 days of volunteer work charities would have otherwise missed out on. Angelica and I arrived at Age UK, dressed comfortably, as suggested by Philomena. She greeted us warmly, grateful for the help, a distinctive rasp to her voice, hair tied up in the blistering heat. I immediately asked how she could put us to work. "What sort of things do you want to do?" Philomena asked. "We're happy to do whatever you need us to," I said — and it was true. Since we'd volunteered, it seemed that putting constraints on what we were willing to do would be a little uncharitable. She took us downstairs to the basement. There were a lot of clothes. Piles of them, almost mounting to the ceiling, bags upon bags of donations.  No corner was left unfilled: books, bric-a-brac, toys. There was a small cupboard bundled with clothes that would have made an ideal place for an afternoon nap. I still banged my head despite the very visible MIND YOUR HEAD signs. "Martin," Philomena said. "If I show you how to use the steamer, do you want to have a go on these clothes?" Erm… Yes,  yes I would. Faithful steamer, where have you been all my life? Note for later: cancel the Netflix subscription and don't renew your mobile phone contract. This the only device you need. What a marvel how a delicate brush against the toughest wrinkles simply melted them away — and how much kinder it is to your wardrobe than the hot plate of an iron. Had I'd known, I'd have packed a suitcase.
Me, full steam ahead!

At first, I thought the steaming was just to make the clothes look more attractive — but it probably took on a more hygienic role, too. Let's think about it. Clothes linger in wardrobes for months, years, and sometimes decades before they're bundled into carrier bags and taken to charity shops, where they remain until they're sorted, hung up, and labelled. A lot of time passes before the garments reach the shop floor — a lot of time to attract must and dust. Perfect, then, for when I've had a cigarette with the window closed. As the day went on I realised that, in a way, marketing isn't too different from working on the shop floor: you must always think about the customer. That's why, what with this hot weather, we took jeans and thick woollen coats back to the basement and replaced them with whatever shorts and t-shirts we could find. And that's why we moved the heavier shop-floor garments to the bottom rails, the lighter ones to the top, and arranged them by colour — to make them easier on the customer's eye. After all, it wasn't about us: it was about them. [caption id="attachment_7709" align="alignnone" width="2016"]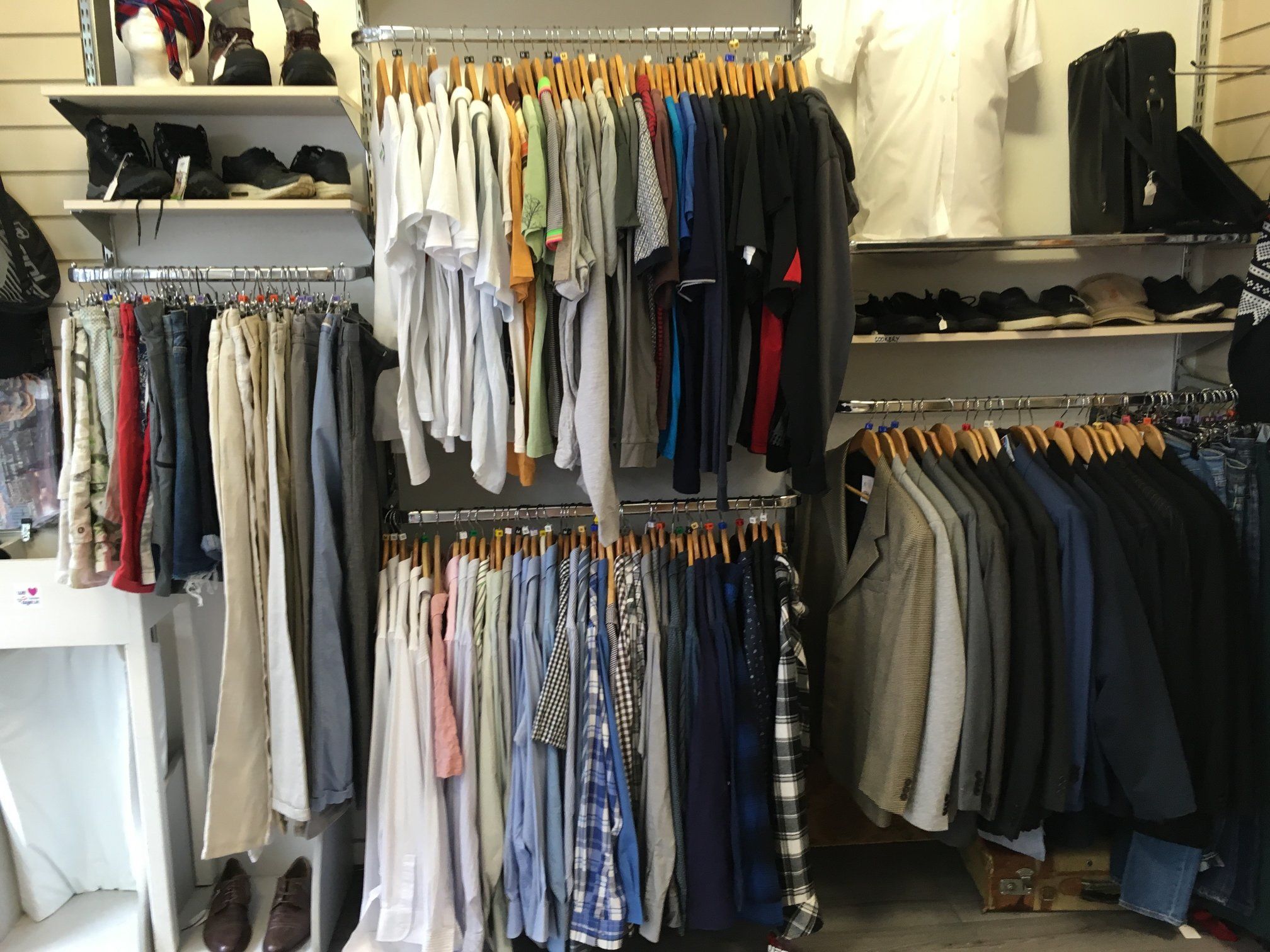 Menswear, after I got my hands on it. "Anytime you're in the area," Philomena said, as we were saying goodbye, "drop in and have a cup of tea." An example of her character, I thought, for she was keen throughout the day to keep us hydrated. Did I enjoy myself? Yes. Did we make a difference? I hope so. Would I go back? Absolutely — although I'd have to gear up for more regular visits, like training for a marathon. As I sit at my desk writing, I realise I've long taken for granted the luxury of working in an office. The blisters on my feet will bear witness to that. [caption id="attachment_7708" align="alignnone" width="640"]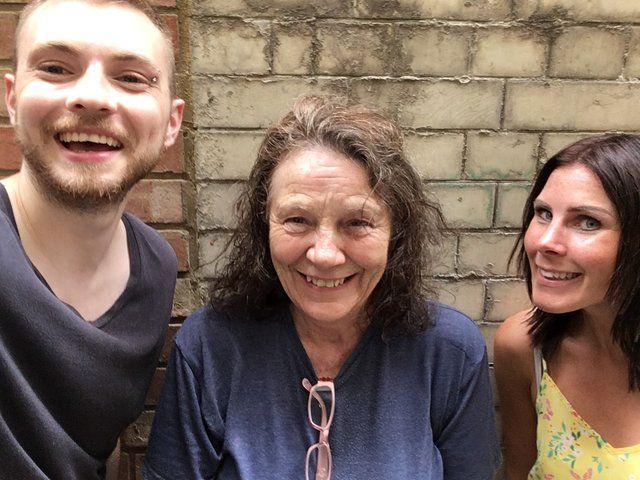 Me, Philomena, and Angelica (from left to right).