The lovely folks at TotallyMoney were all out having a drink the other night, and we found ourselves talking about each other's wardrobe staples – those go-to items that we spent a bit extra on, but were definitely worth the money.
So I've had a think and come up with five wardrobe essentials for the coming season that warrant splashing out on. They'll see you through to spring, and still be worth setting aside for next year.
1. The classic trench
Stylish, chic and especially practical at the moment, the trench is the perfect transition coat. Not too heavy for mild days, but enough to keep you warm as autumn approaches. And of course, it's a fashionable way to stay dry.
My pick is this classic from Zara (right). Personally I think it's great value at £69.99 – it's a beautiful cut and colour and it'll last you many, many rainy days.
2. The loafers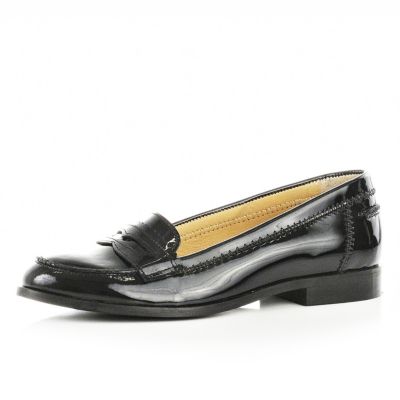 A hot tip for autumn – think androgynous, masculine even. These stylish flats will look great with this season's 7/8ths jeans, straight-leg chinos and with woolly winter tights and dresses as the temperature drops.
My personal high-street favourites are these beauties from River Island. Sturdy enough to withstand increasingly wetter weather and quite masculine in fit, but the patent shine makes them super-chic and smart. Better still they're a very respectable £40 – a great investment.
3. The novelty jumper
Usually reserved for December when worn only in the comfort of your own home with your pyjama bottoms, the novelty woollen jumper is big news for winter. Obviously I'm not quite talking about a reindeer jumper a-la Bridget Jones,
but the more novel, the better.
The trick with these is if you go for a stand-out image, stick to a very straightforward cut. Topshop is the place to go for novelty knits, and while I admit it's a little pricey, I've fallen for this polar bear jumper.
(£48). Team it with some dark red skinny jeans and those lovely loafers and you'll have nailed the look.
4. Mustard accessories
The high street is filled with clothes of all sorts in a gorgeous dark yellow mustard colour, perfect for autumn. Now I know it doesn't suit everyone and if you're not quite brave enough to go the whole way, a few mustard-coloured accessories will serve you very well indeed. For a pretty pop of colour, these tights from ASOS (£12) will do the trick and are lovely and thick so will see you through even the coldest winter weather. 
Or for a different winter warmer, this rather lovely mustard scarf from Topshop (£16) is another perfect way to introduce a bit of colour to your autumn/winter wardrobe.
5. The statement dress

Every season has one of these and this is no exception. It's usually hard to pick out just one, but I've actually had no trouble at all coming up with my ultimate favourite. Channelling two trends in one, Marks & Spencer have absolutely nailed it with this dress. Sporting an oh-so fashionable geometric pattern and with a subtle nod towards the tough, rocker style – it's perfect and an absolute steal at £39.50.
I know some people (including me) usually shy away from body-con dresses, but the long sleeves and high neckline mean you won't be showing off too much skin, plus the pattern and the colour will hide any lumps and bumps you're worried about! Wear it with a leather jacket and boyish ankle boots – and you'll be ready to rock.
{Photo: Funkypancake}